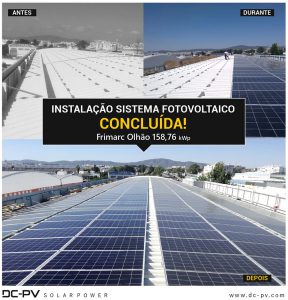 FRIMARC has chosen DC-PV for the implementation of photovoltaic solar energy systems for self-consumption in three of their cold stores in the Algarve and Alentejo.
These systems will allow them to considerably reduce the company's energy bill and make it more efficient.
A total of 1020 photovoltaic modules of 315Wp were installed in warehouses in Estoi, Olhão and Évora, an add up of 321kWp that will avoid the annual emission of 290 tons of CO2.
If you want to decrease your company's energy bill. Contact us!